Important notes when using BW drill...
Important notes when using BW drill pipe
2012-09-20 08:30:50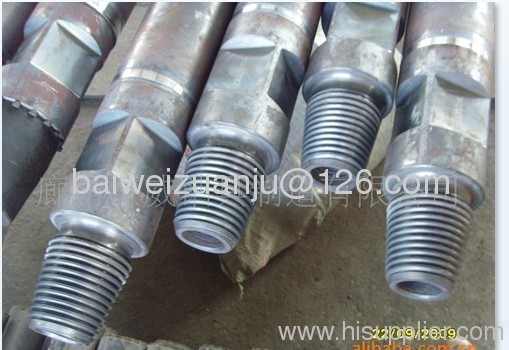 Important notes when using BW drill pipe

(1) the new drill pipe should be first use the drill pipe thread on the protection grease wipe clean, water or air cleaning pipe wall, and then to drill pipe inside and outside buckle on daub thread oil. Drill pipe should avoid long-term open deposit, deposit should be wiped clean pipe before and in its outer wall and thread part daub antirust oil.
(2) each connection rod to remember to drill pipe thread daub thread oil, and the drill pipe applied rated torque more than 80% of the screw on torque, and then send drilling fluid normal drilling;
(3) drill pipe in use process always don't make it bear more than rated torque and load;
(4) should make drill pipe to inherit the curvature radius of always greater than allowed minimum radius of curvature, or drill pipe were easy to bear too much bending force and fracture or produce contact fatigue crack. This is true especially likely to happen during the and reamer bit connecting the first root drill pipe near the reamer bit of 0.3 m to 0.8 m place, and in not fracture without being noticed. This drill pipe in the later in use at any time are likely to rupture, has caused a serious loss to you! This is the import drill configuration transition rod (or say initial rod) is an important reason. Therefore, in order to improve the service life of drill pipe, more the avoid bring you great loss, please you in ordinary drill pipe and reamer bit (especially large diameter expanding bit) the connections between budweiser transition bar. If you have no budweiser transition bar, please you in and reamer bit connection that single drill pipe made on mark, don't connect this drill pipe next engineering used in the other place, and check the drill rod fatigue degree, change in time this drill pipe. But to do so is still the practice of adventure, for some engineering speaking, a new drill pipe in the position there are still may not be able to stick to the expanding or tow tube finish namely fracture.
(5) the regular inspection drill pipe joint and rod body wear, depending on the degree of wear reduced drill pipe are under tension and torque, wear serious should change in time.
---