Rammer tube hammer specification 2
Rammer tube hammer specification 2
2012-10-15 09:21:25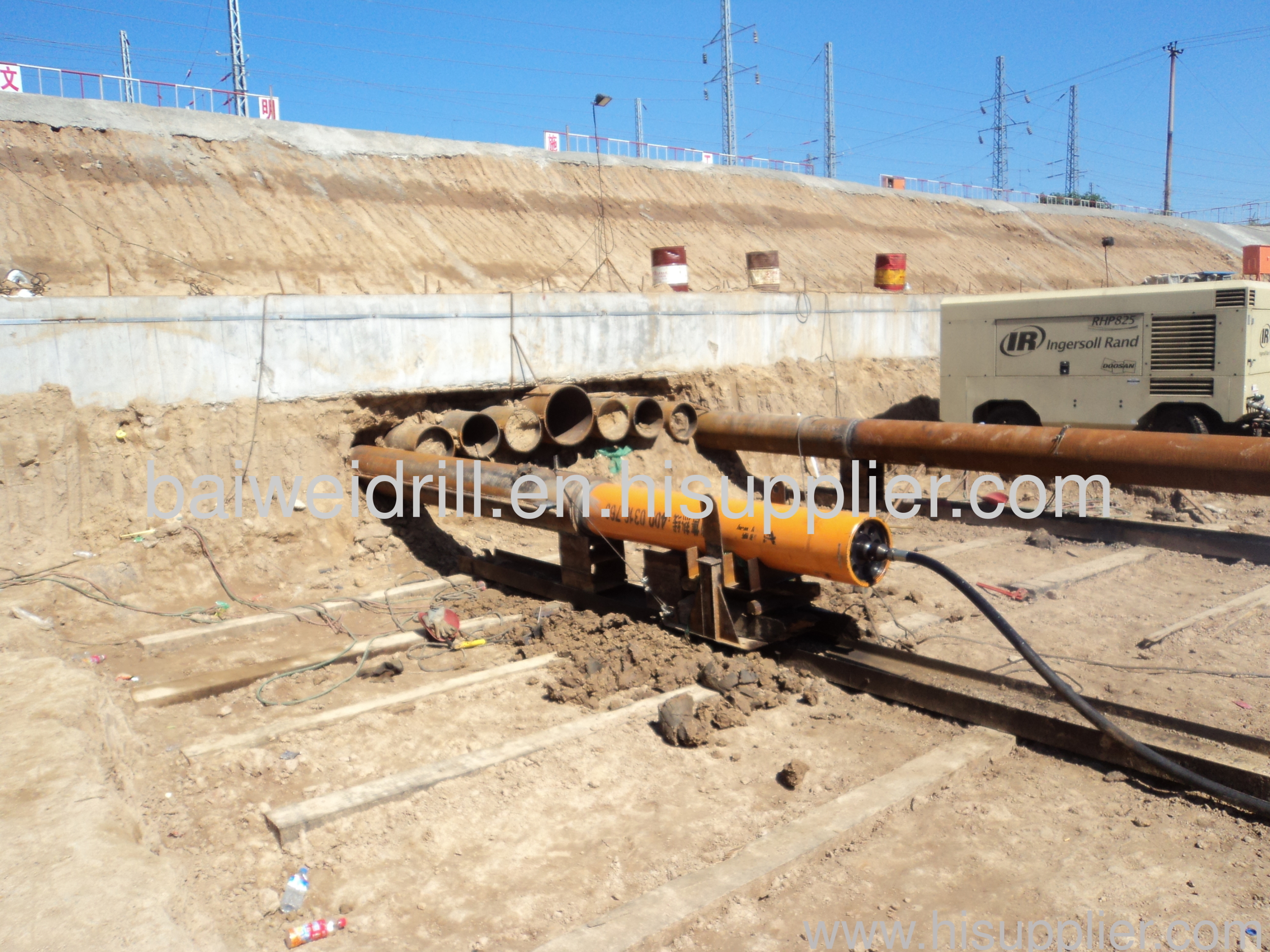 3 tamper tube hammer system main components and function
3.1 tamper tube hammer system is composed of rammer tube hammer, high pressure hose, injection system, grouting system components, figure
(1) as the rammer tube hammer system assembly schematic diagram.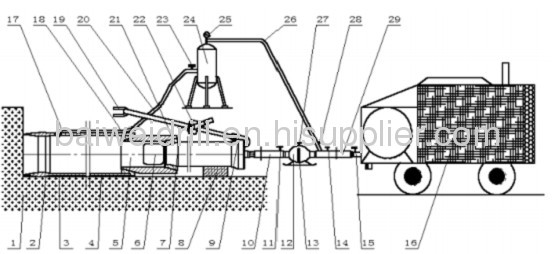 1 - formation 2 - cutting head 3 - steel pipe 4 - block 5 - unearthed unit 6 - unearthed window 7 - tamper tube hammer 8 - block
9 - hook 10 - high pressure gas 11 - hammer inlet valve 12 - oiler 13 - and oil window 14 - main inlet valve 15 - air pressure
Machine exhaust valve 16 - air compressor 17-18 - grouting hard pipe ramming pipe head 19 - pull-tab 20 - grouting hose 21 - cone
Set of 22 - tensioner 23 - grouting valve 24 - store slurry tank 25 - pressure gauge 26 - intake hose 27 - oil quantity control valve
28 - injection pipe inlet valve, 29 - high pressure hose
3.2 effect
Cutting head: also called tube boot, welding in the front of the steel tube, protect the mouth of pipe, reducing cutting area,
Compaction pipe external soil, reduce soil layer for steel pipe of the outer wall of the friction force;
Block: adjustment of steel pipe and tamper tube hammer height, keep it in the same axle wire;
The unearthed device: transfer tamper tube hammer impact, discharge tamper tube process inside pipe into from the steel pipe
On the other side of the extrusion of the soil.
Rammer tube hammer: provide laying the impact;
Intake valve: used to start or shutdown tamper tube hammer;
Oiler: by compressed air will oil substitution tamper tube hammer, lubrication tamper tube hammer of moving parts,
Oil quantity adjustable, and oil window can observe the oil output;
Air compressor: to tamper tube hammer to provide compressed air and clean steel pipe inside the core;
Rammer pipe head: prevent steel pipe by hammer after nozzle expanding or damage;
Cone sleeve: make the rammer tube head, unearthed apparatus and tamper tube hammer and steel pipe diameter match each other;
Injection pipe: mud or lubricating liquid delivery to the front steel tube, pipe shoe hind channel;
Grouting system: the store slurry tank, grouting pipe, the trachea and control valve composition, but to steel tube outer wall and inner wall pressure
Plasma reduces friction resistance;
Grouting system in most conditions using effect is not too good, or because of injection pipe rupture and loss
Effect, so it is often not be used.
3.3 steel pipe ram into underground, core into the steel tube inside, use compressed air will steel pipe inside the core ejector,
Pipeline laying is completed. Figure (2) for the unearthed equipment installation plan. Some conditions need to cooperate with people
Work clear soil, screw drill clear soil, high pressure water cleaning soil, this is differ one is introduced.

1 - formation 2 - core 3 - steel pipe 4 - clear soil ball 5 - seal cover 6 - ring 7 - stop lever 8 - intake pipe
9 - inlet valve 10 - oiler 11 - air compressor
3.4 effect
Qing earthenware: including clear soil ball and sealing cover. Qing soil ball close to the outer wall of steel pipe wall, in the steel tube is formed in
A piston, the role of compressed air in the steel pipe in advance, would steel pipe inside the core from
Steel pipe out. Seal plate used for plugging pipe end of the nozzle.
4. Tamper tube hammer's structure
Rammer tube hammer system main equipment is tamper tube hammer, figure (3) for rammer tube hammer structure diagram
Figure 3

1 2 3 4 5 6 7
1 - hammering block 2 - impact hammer 3-4 - the cylinder with porosity 5 - pneumatic rod 6 - shock absorber 7 - hose
Compressed air through the valve stem (5) drive impact hammer (2) in the cylinder body (3) for reciprocating motion.
5Blow anvil (1) lamping steel pipe. Exhaust gas from shock absorber vent discharge.
6. Tamper tube hammer choose
Rammer pipe engineering proper selection of rammer tube hammer is very important. Choose tamper tube hammer should be comprehensive considering the crossing
The formation, laying length and diameter of pipe laying three factors.
Formation of the density, hardness, viscous, aquosity, containing gravel condition on the rammer tube hammer laying can
Force has a great influence. In the soft, viscous small, water rich, sand gravel content less (less than 20%)
---