Oil Drill Pipe For Drilling Machine
Product Description
Payment & Shipping Terms
Supply Capacity
Unit Price:
0.1~999999.0 USD
Production Capacity:
20000PCS/Year
Trade Term:
FOB
Packing:
Steel frame
Payment Terms:
L/C, T/T
Delivery Date:
15 Days
Min. Order:
50 Piece/Pieces
Means of Transport:
Ocean, Air, Land
Oil Drill Pipe For Drilling Machine
Oil drill pipe is used for oil wells. The drill pipe wall is very thin, and the unit length is very light. Oil pipe mainly provides the mud channels, transfers pulling force and torque.
Drill rods for HDD machine. High strength, high tenacity, high elasticity. Dia from 42mm to 140mm. Length from 0.5m to 9.6m. Steel grade: E75/R780,G105,S135 We can make the drill rods for Vermeer,Case,Ditch Witch, Drillto, Gudeng, Xugong HDD machines, such as D16X20, D24X40, D50X100, D75, D80, D100, D130, JT1720, JT2720, JT2720 March I, JT4020, JT7020, API NC23-NC50, etc.

| | | | | | | | | | |
| --- | --- | --- | --- | --- | --- | --- | --- | --- | --- |
| OD of PipeBody | Thickness of Pipe Body | Length of drill box | OD of Pin and box | Steel Grade | Thread type | Rated torque(E-75) | Rated pull(E-75) | radius of curvature | Weight |
| mm/in | mm | mm | mm | | Type | N.m | KN | m | KG |
| 50/1.9" | 6.5 | 1500 | 53.5 | EXGS | BW | 4000 | 180 | 40 | 13.5 |
| 50/1.9" | 6.5 | 2000 | 53.5 | EXGS | BW | 4000 | 180 | 40 | 17 |
| 50/1.9" | 6.5 | 2500 | 53.5 | EXGS | BW | 4000 | 180 | 40 | 20.5 |
| 50/1.9" | 6.5 | 3000 | 53.5 | EXGS | BW | 4000 | 180 | 40 | 23.5 |
| 60/2-3/8 " | 7 | 2000 | 68 | EXGS | BW | 7000 | 250 | 50 | 23 |
| 60/2-3/8 " | 7 | 2500 | 68 | EXGS | BW | 7000 | 250 | 50 | 27.5 |
| 60/2-3/8 " | 7 | 3000 | 68 | EXGS | BW | 7000 | 250 | 50 | 32 |
| 60/2-3/8 " | 7 | 4500 | 68 | EXGS | BW | 7000 | 250 | 50 | 45.5 |
| 73/2-7/8 " | 8 | 2000 | 78 | EXGS | NC23 | 11000 | 350 | 65 | 32.5 |
| 73/2-7/8 " | 8 | 3000 | 78 | EXGS | NC23 | 11000 | 350 | 65 | 45 |
| 73/2-7/8 " | 8 | 4000 | 78 | EXGS | NC23 | 11000 | 350 | 65 | 58 |
| 73/2-7/8 " | 9 | 3000 | 88 | EXGS | NC26 | 11000 | 350 | 65 | 54 |
| 73/2-7/8 " | 9 | 4500 | 88 | EXGS | NC26 | 11000 | 350 | 80 | 75 |
| 89/3-1/2" | 9.35 | 4500 | 92 | EXGS | 92 | 20000 | 500 | 80 | 98 |
| 89/3-1/2" | 9.35 | 4500 | 97 | EXGS | 97 | 20000 | 500 | 80 | 100 |
| 89/3-1/2" | 9.35 | 6000 | 97 | EXGS | 97 | 20000 | 500 | 80 | 127.5 |
| 89/3-1/2" | 9.35 | 4500 | 105 | EXGS | NC31 | 20000 | 500 | 80 | 108 |
| 89/3-1/2" | 9.35 | 6000 | 105 | EXGS | NC31 | 20000 | 500 | 80 | 135.5 |
| 89/3-1/2" | 9.35 | 6000 | 123 | EXGS | NC38 | 20000 | 500 | 80 | 152 |
| 89/3-1/2" | 9.35 | 9600 | 123 | EXGS | NC38 | 20000 | 500 | 80 | 218 |
| 102/4" | 10 | 6000 | 123 | EXGS | NC38 | 30000 | 750 | 90 | 180 |
| 114.3/4-1/2" | 10 | 6000 | 127` | EXGS | NC38NC40 | 40000 | 1000 | 100 | 212 |
| 127/5" | 10 | 9600 | 168 | EXGS | NC50 | 70000 | 1500 | 120 | 344 |
| 139.7/5-1/2" | 11 | 9600 | 192 | EXGS | 5 1/2"FH | 120000 | 3000 | 140 | 430 |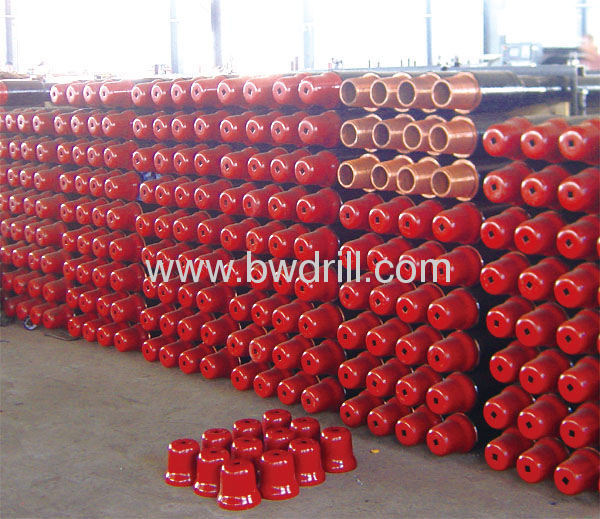 Drilling Machine Oil Pipe
Category: Oil Drill Pipe
Related Category: Geological Drill Pipe Double Wall Drill Pipe Gas Drill Pipe HDD Drill Pipe Well Drill Pipe